125AED -300AED, All Shisha, Aluminium, Medium, New Arrival, Shisha, Shop All, Tsar Hookah
TSAR HOOKAH MOLOTOV X+ SHISHA – REPTILE BLUE
TSAR CHICHA MOLOTOV X +: THE REWORKED DESIGN OF SHISHA
Compare
Availability:
Only 1 left in stock
AED 250.00
Only 1 left in stock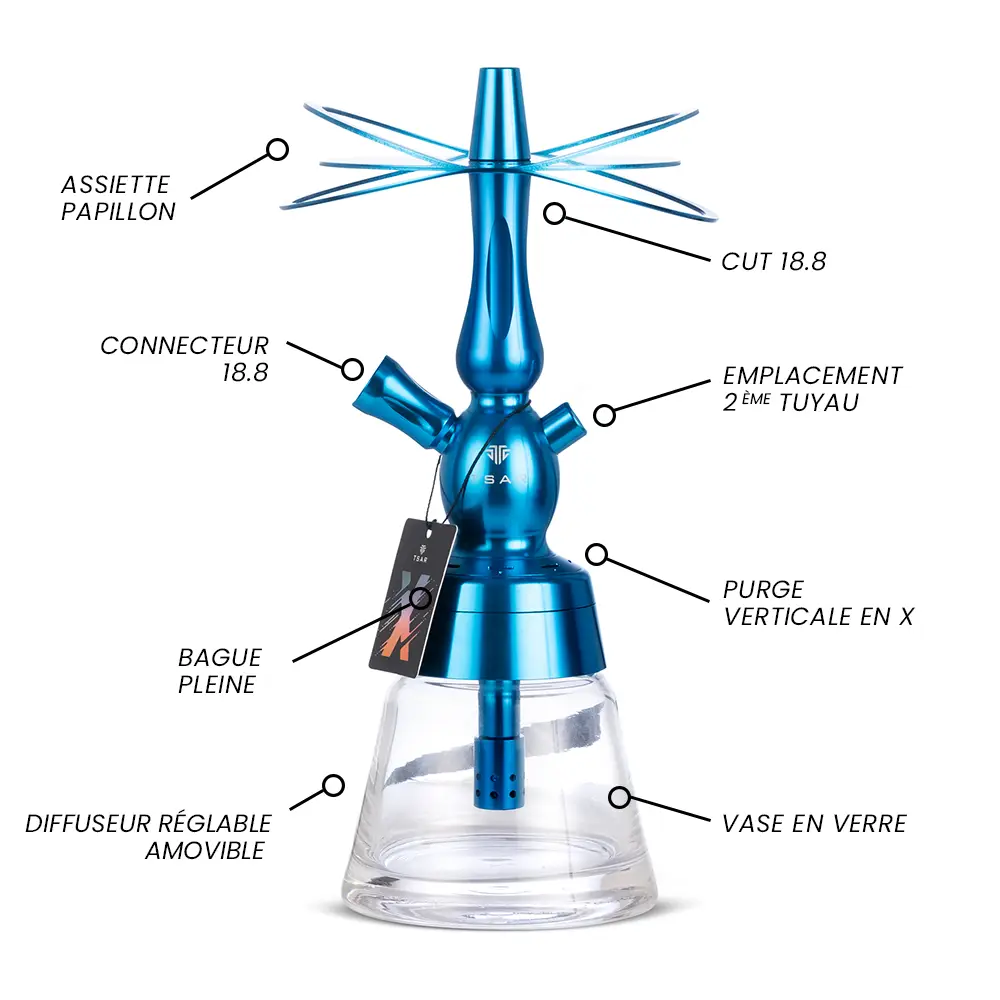 SHISHA TSAR MOLOTOV X +: THE REWORKED DESIGN SHISHA
If you thought you knew everything about the Molotov X, Tsar intends to surprise you again with a stylish and high-performance hookah at the best price, in line with its predecessor. The French brand, constantly reinventing itself to offer you hookahs at low prices, modern and in tune with the times, presents its new jewel: the Tsar Molotov X + hookah .
This new TSAR shisha takes up characteristics belonging to the Tsar Molotov X. A look specific to the inimitable Tsar shisha, with a hose outlet, a purge valve, and finally, its recognizable butterfly plate among a thousand.
It has a more design and modern aesthetic, with more worked and refined lines. We find in particular details on the column and the connector, as well as the plate and the purge plug stamped with an X, the trademark of this particular shisha. A purge plug, which can also leave room for a second pipe for your sessions with several people.
Another novelty on this new Tsar Molotov X + hookah , and not the least: the purge. You will now find it on the base of the column, in the form of multiple small openings that will let the smoke escape. A change that has its small effect, both in terms of design and rendering, for a unique experience.
Full ring lovers will be delighted by the presence of it on the shisha. This particularity allows a complete purge of the smoke contained in the vase, in a faster and more homogeneous way thanks to the presence of two small openings.
A PERFECTLY EQUIPPED TSAR SHISHA
In terms of equipment, the shisha comes with various essential accessories: a Phunnel-shaped ceramic hearth , perfect for accommodating your favorite shisha tobacco or shisha taste. A complete silicone hose and handle set is also included, comprising a 40 cm long XL aluminum handle composed of 2 parts, as well as a soft touch silicone hose. The finishing touch is undoubtedly the coal tongs delivered with the Tsar hookah.
In addition to the shisha accessories that it includes, the Tsar Molotov X + is equipped with a diver with removable diffuser , adjustable in height in various positions. Extremely fluid pull, with a little more resistance or heavy pull, no less than 3 different types of pull await you. A small revolution for sessions with the perfect draw upon receipt.
And all this on a 35 cm high hookah only! Convenient to carry it for your outdoor sessions. The most difficult will be to choose which one you prefer: the French brand Tsar offers a wide choice of colors, through a palette of 18 colors as elegant as each other.
A CUSTOMIZABLE HOOKAH ACCORDING TO YOUR DESIRES
If you want to bring a touch of originality to your Molotov X, several options are available to you. You can first choose to add a molasse collector thanks to the 18/8 cut present on the column, which will also offer you the possibility of keeping a clean hookah.
Personalization can also be done through the various accessories that make up your shisha pipe. Indeed, the plate, the pipe connector or the vase are available in a wide variety of colors, allowing you to obtain an original and unique shisha pipe, with new color combinations. You will find everything you need to personalize your Tsar Molotov X + shisha on our shisha shop.
Features and equipment of the Molotov X +
Height: approximately 35 cm without fireplace
Aluminum hookah
1 hose outlet
1 drain plug
Butterfly plate
Cut 18/8
Plunger with adjustable and removable diffuser (fluid or heavy draw)
Vertical drain on the base of the column
Ceramic Phunnel Hearth
Silicone hose 120 cm
Unscrewable handle 2 parts 40 cm
Full ring system
18 colors available
Heating system not included
| | |
| --- | --- |
| Weight | 3 kg |
| Dimensions | 30 × 30 × 35 cm |
| Box Contains | |
| Brand | |
| height | |
| Material | |
| Size | |